Lydia
My family has always had members with paws. When I was younger we had dogs and when I bought my first home the first thing I did was head to the local rescue centre to expand mt family. My pets are members of my family so I know how important your pets are to you.
Before starting any services I will book a meeting with you and your pet. This is really important as it allows me to get to know you and your pet. Every pet is unique, I love learning about each pet's character and preferences.
Before providing any services I will go through all of the important paperwork with you. I have full insurance, a DBS check, Pet First Aid training and a Home Boarding license so you will be able to relax knowing that your pet is receiving excellent care.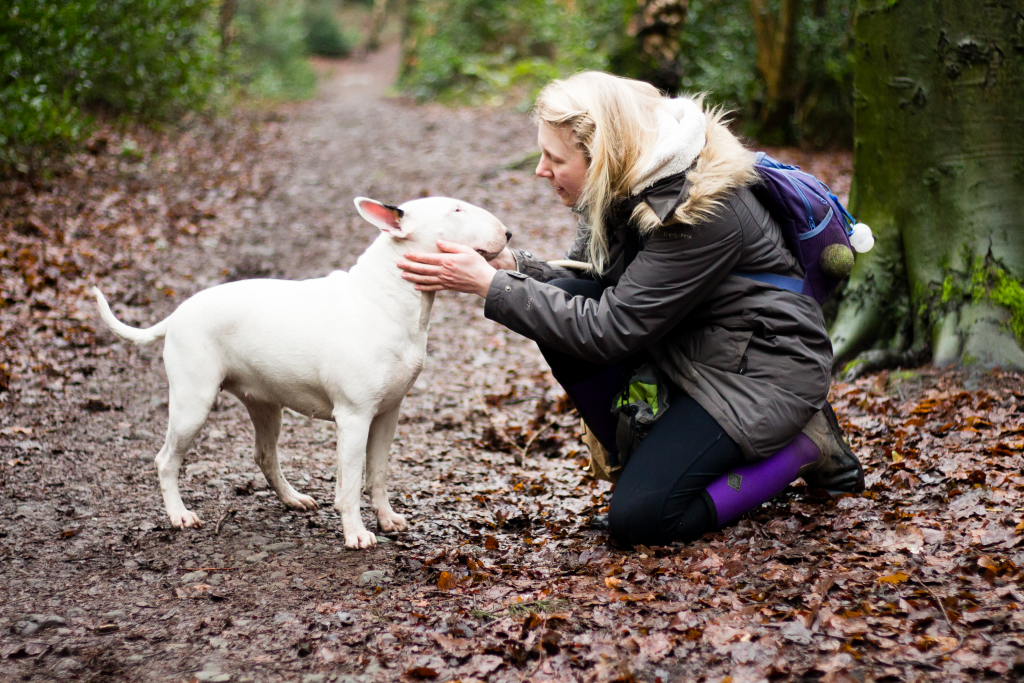 My Story so far
Ex-teacher turned dog walker. I studied Chemistry at University and then trained to be a teacher. I taught science for 4 years before realising I wanted to do something different with my life. In my spare time, I volunteered at a local charity walking their dogs and found the experience both rewarding and relaxing. This is when the idea of setting up my own dog walking and pet sitting business came to me.
It was the sort of job I'd never dreamed I'd be able to have. I mean who doesn't want to spend every day with gorgeous animals? But where do you start? There were no guarantees like in teaching of a wage each month and no paid holidays. I had absolutely no idea how to run a business and no customers.
First stop: Research. I spent a lot of time reading about dog walkers, writing contracts for future customers, getting insured and trained in pet first aid. Then I was out posting what felt like a million leaflets throughout a very cold January and into February in the hope of getting some customers. Luckily, I picked up a few customers quickly and through that first year my customer base steadily increased and was boosted further by the introduction of home boarding when I obtained my 4-star licence in the Summer. I still spend a lot of time researching how to do my job better and am always looking for courses on dog behavior.
Now, I'm in my second year and have recently purchased a van! It's been kitted out for the Happy Waggers and has stickers advertising the business on the outside. It has made my day to day life so much easier. A couple of months after purchasing the van COVID-19 hit.
As I write this update we are currently in the middle of the pandemic. All walks and services have been cancelled. With no income, it has been both financially and mentally very difficult at Happy Waggers and Sleepy Whiskers headquarters. After a couple of weeks of feeling lost I decided to open an online pet shop, this is something I've always wanted to do but never had the time to look into properly until now. The shop is now open and supplies non-toxic eco-friendly toys and all-natural treats for cats and dogs. Once the lockdown is over I hope to run the shop along side my usual services. Please check out the shop whilst you are on my website.
I often get asked if I regret leaving teaching. The answer is a firm NO. Although I don't regret having been a teacher as it helped me take a leap into a job that I truly love. Surprisingly the jobs are very similar: planning, preparation, and organisation; however one job is way more fun, muddy and furry than the other (you can guess which).
Owner of Happy Waggers and Sleepy Whiskers,
Lydia
Meet my Sleepy Whiskers
Missy
My little princess has the loudest purr I've ever heard, she sounds more like an engine than a cat. She's extremely chatty and very intelligent. She loves attention and will sit or stand on me even if there is no space!
Badger
One of the only clumsy cats, he often trips over his own feet. He likes to be stroked from the tip of his nose over the top of his head. He literally throws himself at my feet for cuddles, especially at tea time!